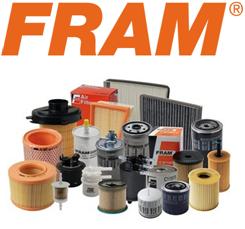 e-mail: sales@ptsfilters.co.za
FRAM is a brand recognised by European, Japanese and American manufacturers as an essential business partner in the motor vehicle filtration field.
FRAM occupies the leading position on the American market, where it has a 54% market share, as well as in several European countries.
With Headquarters Danbury, CT, FRAM® is a unit of Honeywell Consumer Products Group which manufactures and markets FRAM® Oil, Air, Transmission and Fuel Filters; Prestone® Antifreeze/Coolant and Car Care products; Autolite® Spark Plugs and Ignition Wire Sets; and Holts® Car Care products.
With six North American research and development, manufacturing, and marketing locations in Greenville, Ohio; Perrysburg, Ohio; Clearfield, Nev.; Danbury, Conn.; Mississauga, Ontario; and Stratford, Ontario; the FRAM® brand employs state-of-the-art process control and automated inspection equipment to assure that products are made on time and meet rigorous internal and customer requirements. The plants combined have also earned a number of quality certifications including ISO 14001 and ISO/QS 9000. Today the FRAM® brand is known as America's number one consumers' choice oil filter brand, and the FRAM® team continues to manufacture and market a variety of quality oil, air and fuel filters, as well as many automotive accessories such as PCV valves, crankcase filters and transmission modulators.
Contact us for a FRAM filter for your vehicle and equipment.