For all official information and updates regarding Covid-19 visit the South African Department of Health website at
www.SAcoronavirus.co.za
or their WhatsApp line on 0600-123456. If you want your own WhatsApp Chatbot visit
www.whatskonnekt.com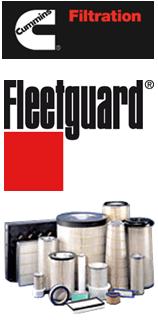 e-mail: sales@ptsfilters.co.za
Cummins Filtration
As a global supplier to original equipment manufacturers, aftermarket dealer/distributors and thousands of end users, Cummins Filtration offers the broadest product coverage in the industry under the Fleetguard® brand, renowned for innovation and quality.

Filtration
Under the Fleetguard brand, the company markets filtration products to original equipment manufacturers and the service replacement market for truck, construction, agricultural, industrial and hydraulic (on- and off-highway) filters.

Light Duty Automotive and Specialty Filters
Fleetguard provides automotive in-tank and inline fuel filters, gas filled shock absorber bags and specialty filters for the appliance and other industries. The key product line is the insert molded in-tank fuel filters that are used on over 80% of US automobiles and light trucks.
Fuel systems
With the introduction of global clean air standards, modern fuel systems have more challenges to deal with than ever before. These challenges include higher pressure as well as new fuels like ultra low sulphur diesel (ULSD) and biodiesel. With filtration requirements as low as 2 microns on some high pressure common rail (HPCR) fuel systems, it is imperative that you have the best quality fuel and fuel filtration. Cummins Filtration offers the products you need to maintain and protect your modern fuel system including full flow and bypass fuel filtration, fuel processors, fuel additives, and fuel analysis.
Air system
We offer a wide range of air cleaners, air filter elements, and accessories for various applications, including:
Heavy-duty trucks

Agriculture, construction, and mining equipment

Industrial products -- gas turbines, portable power generation, blowers, and more

Small engines (up to 25 HP)

Vehicle cabin filtration for automotive and industrial equipment
Lubrication system
Lubrication oil is an essential element in the life of your engine. Among other things, lubrication oil lubricates, cools, cleans, protects, and seals the engine components. Over time, contamination is introduced into the lubrication system due to the combustion process, engine wear, spent additives, etc. With the addition of global clean air standards, more contaminant tends to enter the combustion chamber making lubrication filtration even more important than ever. With 50 years experience in excellence in lubrication filtration, you can trust Cummins Filtration to provide lubrication system protection you can depend on.
Transmission system
Optimal performance of automatic transmission systems depends on excellent quality filtration. As the technological leader, Cummins Filtration® offers a complete line of Fleetguard transmission filtration products and fluid analysis programs as part of your regular transmission maintenance program.
Contact us for a Fleetguard filter for your vehicle and equipment.