For all official information and updates regarding Covid-19 visit the South African Department of Health website at
www.SAcoronavirus.co.za
or their WhatsApp line on 0600-123456. If you want your own WhatsApp Chatbot visit
www.whatskonnekt.com
Air cleaner & pollen filters for cars trucks tractors buses

e-mail: sales@ptsfilters.co.za
PTS Filters supplies a large range of air filters manufactured by GUD, Fram, Baldwin, Fleetguard, Donaldson, Rovos, MANN-FILTER, Luber-Finer and Racor by Parker.
What makes a quality air filter
Seals:
One of the most critical items in the make-up of any heavy duty air filter. A poor seal on a heavy duty air filter could nullify any filtration qualities the filter may have. For this reason the seals must be made from nitrile sponge, which possesses excellent sealing qualities and eliminates dust bypass.
Pleat style:
Spacefix pleating ensures that heavy duty air filters maintain pleat stability. This also reduces pleat flutter under operating conditions. These factors result in a filter that performs better in terms of dust holding capacity and efficiency.
Screen:
Process technology resulted in expanding the filter screens rather than perforate them. This results in improved flow rates without compromising the strength of the filter. From an environmental perspective this reduces scrap significantly.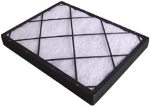 Pollen filters
Allergic symptoms can be caused by the smelly exhaust fumes from the vehicles in front of you and pollen. Renewing the pollen filter in the air conditioner of your car can solve these symptoms.
A pollen filter cleans the air that passes through the ventilation system in your motor vehicle. These filters prevent different types of contaminants from entering the vehicle. Research shows that changing the pollen filter every 15 000 km or more once a year significantly reduces pollution, pollen, grime and dust particles in the vehicle.