For all official information and updates regarding Covid-19 visit the South African Department of Health website at
www.SAcoronavirus.co.za
or their WhatsApp line on 0600-123456. If you want your own WhatsApp Chatbot visit
www.whatskonnekt.com
Diesel fuel filters for cars trucks trucks tractors buses
e-mail: sales@ptsfilters.co.za
PTS Filters supplies a large range of diesel fuel filters manufactured by GUD, Fram, Baldwin, Fleetguard, Donaldson, Rovos, MANN-FILTER, Luber-Finer and Racor by Parker.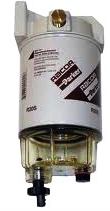 Water separation in diesel fuels
High performance, state-of-the-art technology is now used for fuel injection systems in diesel powered vehicles. This means that the requirements relating to diesel filtration have increased substantially. Both ultrafine particles and larger quantities of water must be separated efficiently from the fuel.
Multiport diesel filters
Diesel fuel is more popular in low torque vehicle categories such as bakkies and SUV?s and is gaining popularity across a broader range of vehicles.
It is well known that diesel engines run much cooler and use less litres of fuel per kilometre than petrol engines and therefore last longer. With all the rises in fuel prices and improved quality in diesel fuel, there has been a widespread increase in popularity of diesel passenger vehicles in South Africa.

Diesel powered cars have smaller, high speed engines compared to petrol engines. Pressures at the injector tip have increased several fold and fuel injection parts have had to become increasingly precise for improved atomisation. This requires decreased tolerances make it necessary for filters to be much finer in filtration and contain more media in the filter itself. Multiport filters have been developed to meet this growing efficiency needs of today?s diesel engine.
Metal free filters
Metal free filters are eco-friendly filters used mainly on European vehicles. Designed for the modern engine, these filters require that only the media needs replacing. The end caps and centre tubes are made in-house, with felt seals ultrasonically welded to the end caps, or rubber radial seals and retainers. After use, the residual fuel can be removed by pressing and the filter can then be incinerated and disposed of, leaving no residue.